The Instant Magazine roadmap
Welcome to the official Instant Magazine product roadmap. This timeline gives you an overview of the features we're developing over the months to come.
Please be aware that these are estimations and that they're subject to change. Also, keep in mind that not all of these features will be available for every license.
Keep up with the latest updates on our Product Updates page.
Last updated on 29 January 2019.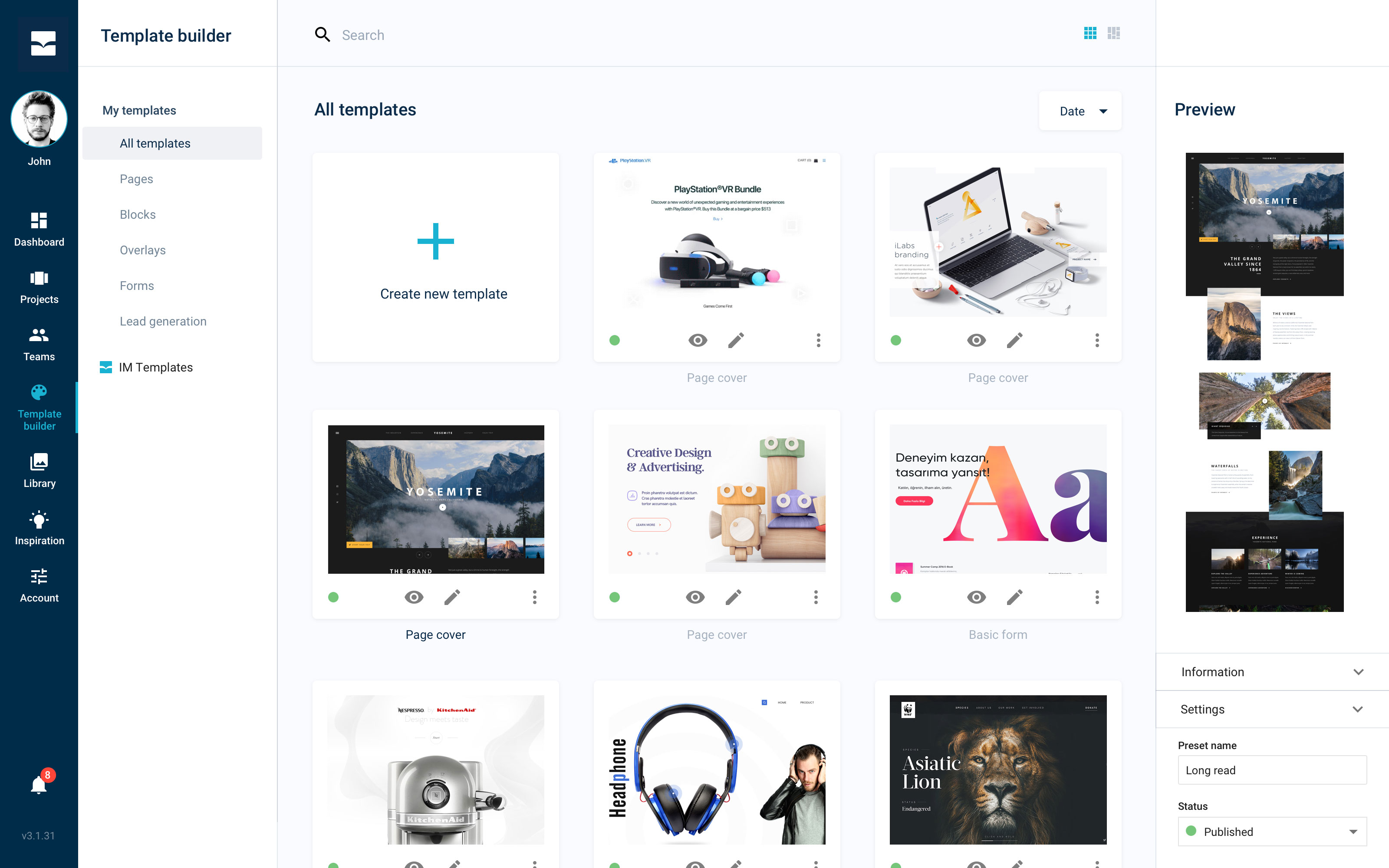 The template builder
One of our most requested features is coming soon! The template builder will allow you to create and reuse templates for Publications, Pages, Blocks, and Overlays across your Instant Magazine account.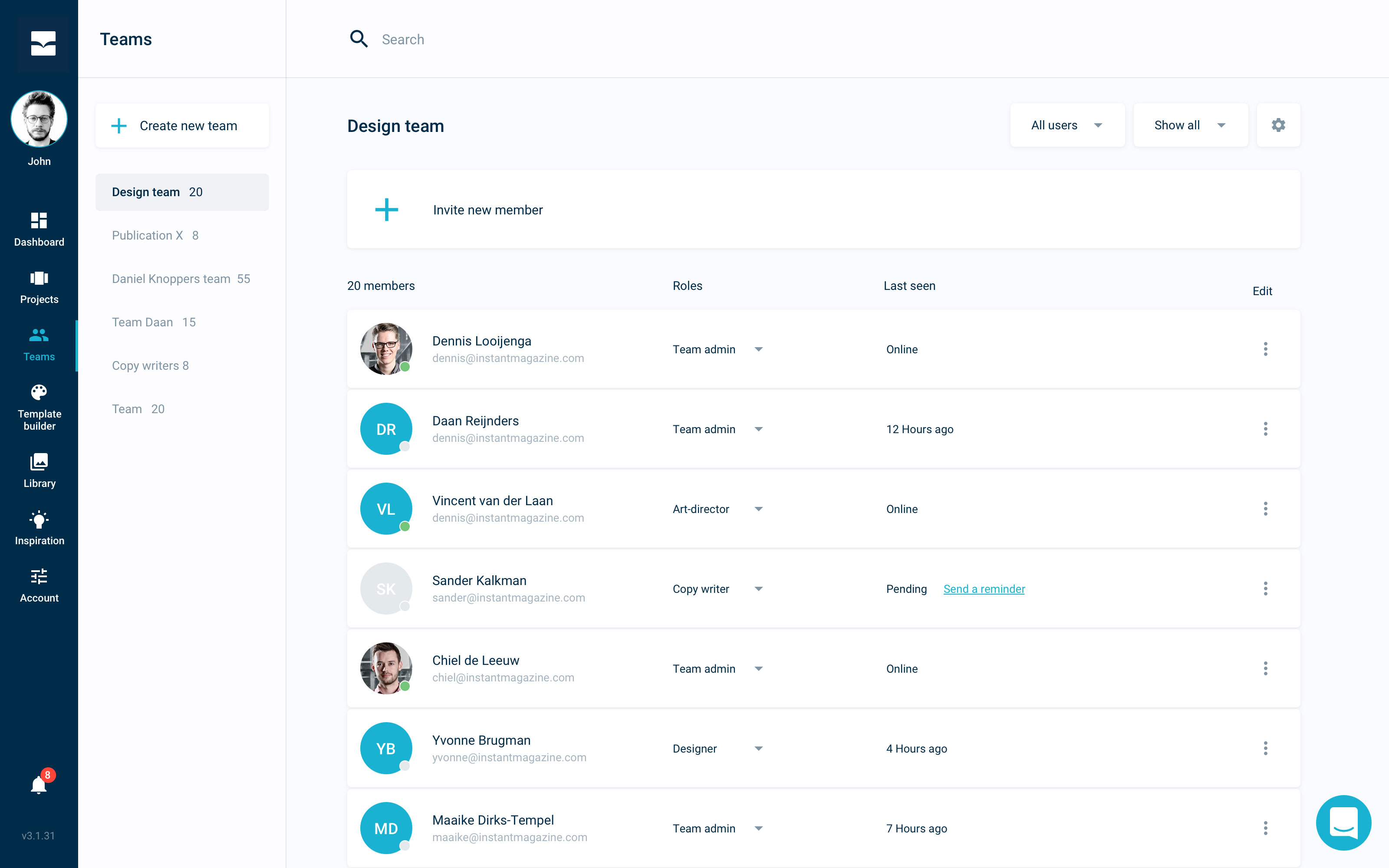 A new way of managing users
As part of the new dashboard, we're also developing new tools for managing users. Expect new ways of grouping users and assigning privileges.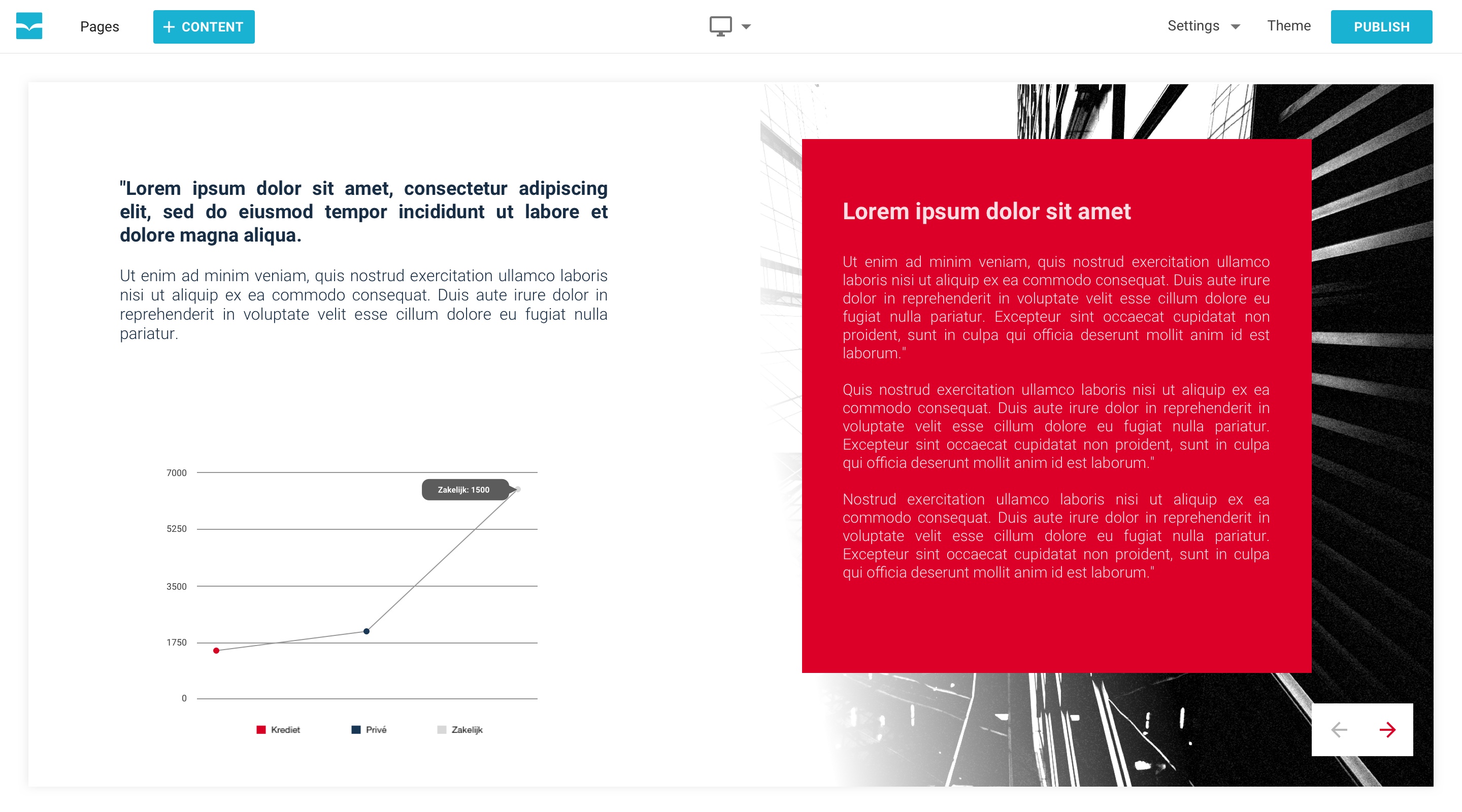 All-new Chart builder
We're developing an all-new Chart element to help you create data visualizations in your Instant Magazines.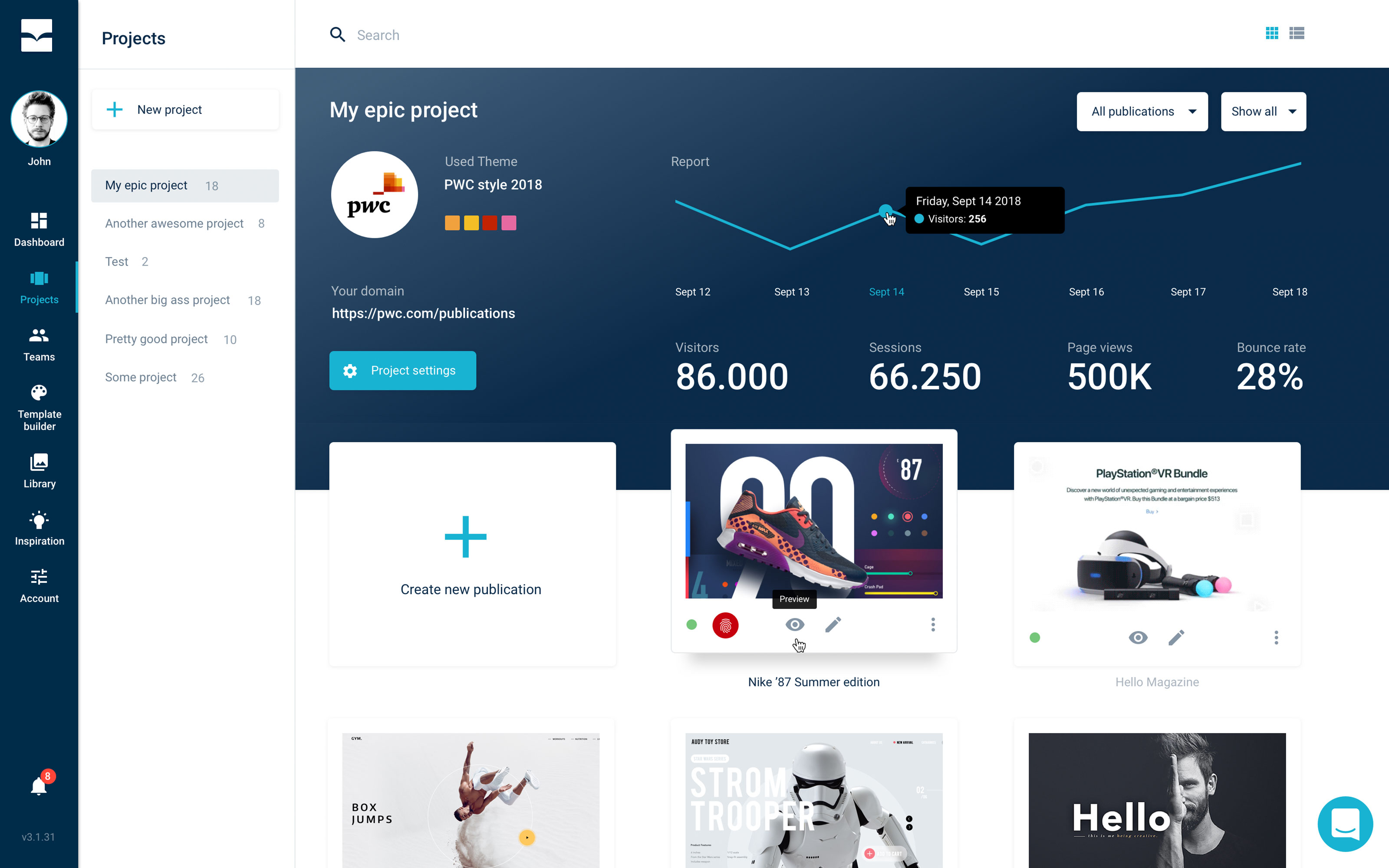 A brand new dashboard
We're working hard on completely redesigning the Instant Magazine dashboard. Expect loads of handy new features, an improved overview of your publications, and easier access to your various assets.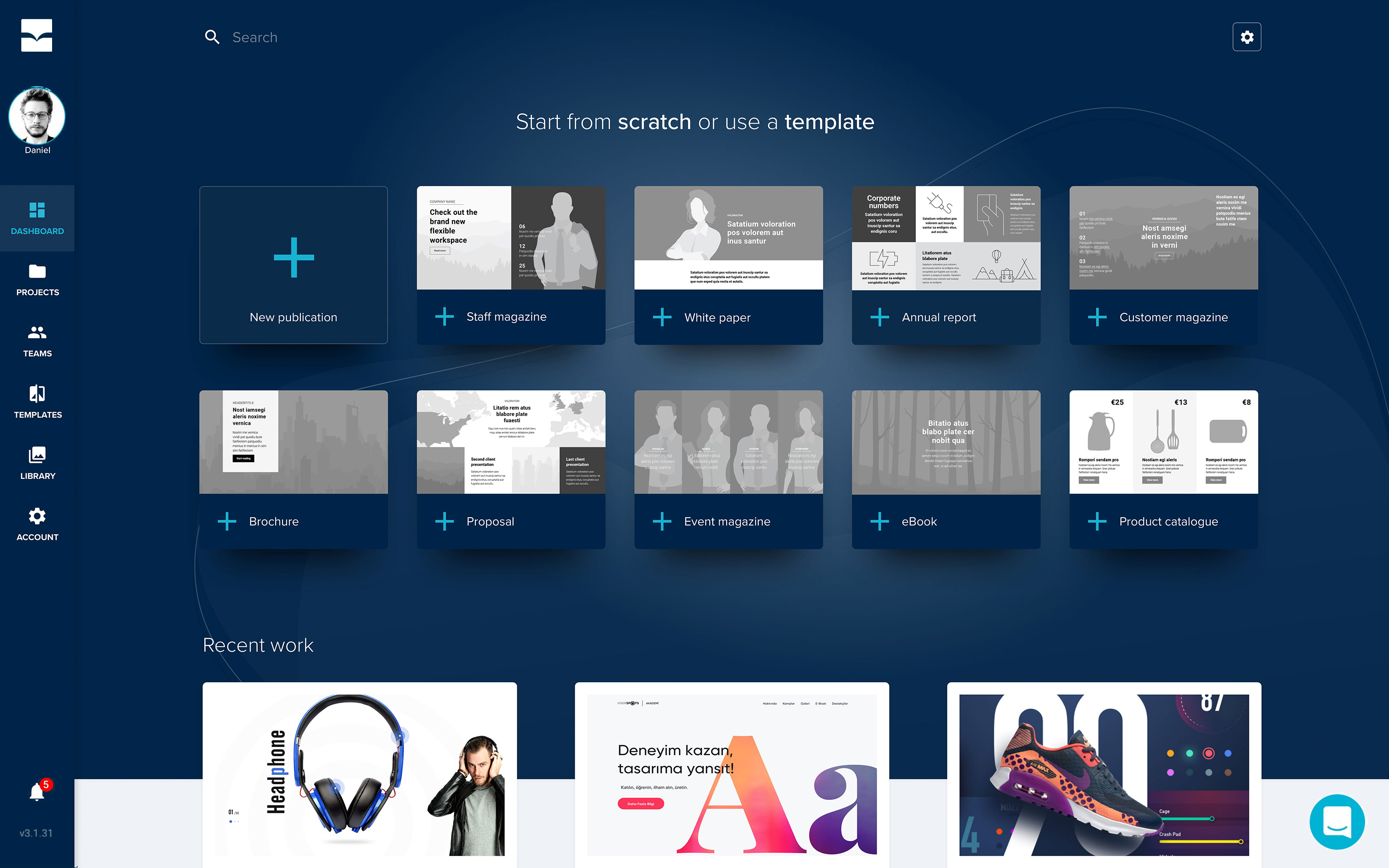 Publication templates
Our design team is busy building dozens of new publication templates. No matter what you plan to make, you'll have the perfect pre-designed, multi-page templates to accelerate your creative process.
Insert pages from another publication
By popular demand, it's now possible to copy pages from one publication to another.
Status: live
Search functionality
Allow visitors of your publication to search through its content.
Status: live
30+ new page templates
Our designers have been busy. 30+ new Page Templates are available! We've improved and categorized them to save you even more time.
Status: live
SSL certificates
We've introduced new functionality for uploading SSL certificates so you can securely host publications on your own domain. Access it via the Publishing Settings.
Status: live
Style buttons and quotes from the theme
You can now style your buttons and quotes from one central location via the Theme panel.
Status: live
Zapier integration
We're integrating with Zapier to connect Instant Magazine to 1,000+ apps. This integration makes the process of managing and following up on leads even easier as you can automatically push lead information to your CRM and other platforms.
Status: live
Improvements to the cookie consent feature
If you've added remarketing pixels to your publication, or are using other types of content that insert cookies (e.g. (background) videos via YouTube or Vimeo), you can now let visitors decide if they accept those cookies.
Status: live
Enhanced parallax scroll options
We're changing the way fixed images work by giving you more control over the scroll speed of Blocks.
Status: live
Drag & Drop reports
We're introducing a brand new dashboard for Drag & Drop publications that highlights the most important statistics.
Status: live
Quote element
Add quotes to your page to make it even more lively.
Status: live
80+ new block templates
We're introducing a wealth of new block templates to help you build pages more quickly. With over eighty new layouts to choose from, you'll spend less time designing and more time making an impact.
Status: live
Reusing overlays

Instead of being able to only link to an overlay once, you'll be able to link to the same overlay multiple times.
Status: live
Lead generation (social login)
We're enriching the lead generation feature with social login, allowing you to collect rich data from your readers via Facebook or LinkedIn.
Status: live
Enriched content animations
Make your publication even more lively with brand new animations and improved versions of existing ones.
Status: live
Overlay management:
Part 1
Managing overlays is about to become easier. You'll have a centralized location where you can see and rename existing overlays.
Status: live
File management
We're expanding the functionality of our Media Library by including the possibility to upload files like PDFs.
Status: live
Rounded corners for images and text elements
You'll have more creative freedom by being able to make the corners of images and text elements rounded.
Status: live
Enhanced visibility settings
We're enhancing features for hiding content across devices. On top of being able to prevent content from display on tablet or mobile, you'll also be able to only hide content on desktop for instance.
Status: live
Custom hotspots
Upload your own images to use as hotspots instead of only our predefined styles.
Status: live
Hosted video
Insert your own hosted videos into your publication, even if they are not on YouTube or Vimeo.
Status: live
Text spacing
Style your copy to perfection by adjusting the spacing around Titles and Paragraphs.
Status: live
Bulk upload images
You'll be able to upload multiple images into our Media Library at the same time, instead of one at a time.
Status: live
Default link style
At Theme, you'll be able to set a standard color for all of your text links.
Status: live
Rearranging columns responsively
Rearrange the order of columns on desktop, tablet and mobile individually.
Status: live
Deleting form submissions
If you collect personal data using Instant Magazine (e.g. through a form), this new feature allows you to delete form submissions and all the included data from your account (and our servers) completely.
Status: live
Lead generation
(form login)

We're improving our lead generation feature. Instead of only being able to gate your publication before it loads, it will also be possible to display the lead gen form after a number of pages. Initially, your readers will be able to access your publication (or the rest of it) by filling out a form.
Status: live
Compress to ZIP

Download your publication as a ZIP file so you can host it yourself.
Status: live
Enhanced text styling

Add background colors to Titles and Paragraphs to make your text stand out more.
Status: live
Background image focus

Lock the position of background images to ensure a certain area of the image is visible across devices.
Status: live
Cookie consent
We're introducing a brand new Cookie Consent feature. This feature allows you to obtain cookie consent from those who visit your publication. We're leaving the cookie wall feature in the original editor as is.
Status: live
Align elements

Instead of only being able to align the content of Columns, you'll also be able to set the alignment for Elements individually.
Status: live
Export to printable PDF
Export your publication as a landscape oriented PDF for printing purposes.
Status: live
IP address anonymization
If you've connected your publication(s) to Google Analytics, you may want to anonymize IP addresses so they will not be recorded in Analytics. This new feature allows you to do so.
Status: live
Navigation positioning
You'll be able to display the navigation bar at the top or bottom.
Status: live
Chapter navigation

We're introducing a brand new navigation type that contains links to individual pages.
Status: live
Background video sound controls
Add mute/unmute controls to your background videos.
Status: live
Rearrange columns
Easily rearrange columns within the same block.
Status: live
Image cropping
Easily crop or resize images right in your Media Library.
Status: live
Duplicate elements
Save time with the ability to quickly duplicate Elements like paragraphs, titles, images and videos.
Status: live
Vimeo support
On top of adding videos through YouTube, you'll also be able to add Vimeo videos to your publication.
Status: live
Bynder integration
Connect Instant Magazine to your Bynder account to access to all your Bynder assets right inside our Media Library.
Status: live
Navigation bar styling
Style the navigation bar of your publications to your liking. Easily set colors to match your corporate identity.
Status: live
Form builder
We're completely revamping our form builder so you can build and style forms in no time.
Status: live